School Uniform
The school policy is to strongly encourage the wearing of the school uniform. The children look very smart and we hope that parents will feel able to support the uniform policy. The school colours are royal blue, white and grey.
Please click here to be redirected to our School Uniform Policy
Grey skirts or pinafore dresses or grey or black trousers
White blouses or shirts
Royal blue sweatshirts or cardigans
Any sensible shoes (No trainers)
Royal blue shorts and Plain white T-shirts or Royal blue leotard.
Black plimsolls/pumps
We understand that children want to express their individuality. However extreme styles are to be discouraged and we appreciate parental cooperation in this. Pupils with long hair should have it tied back for health and safety reasons.
Blue and white gingham or striped dresses/skirts
Blue, black or grey shorts
Plain white T-shirts
We have noticed that during bad weather conditions a number of pupils have been coming to school in boots. This is of course sensible, however, they should bring suitable shoes to change into. Children may wear suitable dark coloured shoes which do not have a high heel. (Maximum heel size is 2 cm) Trainers must not be worn in school. Children who walk across the muddy fields should bring a change of shoes for school. Please clearly mark all footwear and clothing with your child's name. 'Strappy' sandals, open back sandals or flip flops are dangerous and must not be worn!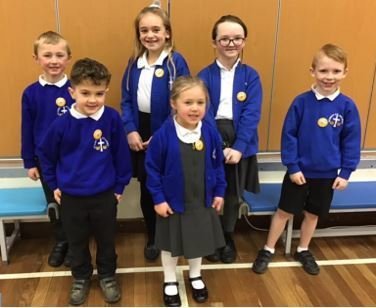 How to Buy
At Scissett CE Academy, we do not insist that pupils have to wear uniform/PE kits with the school logo or specifically purchase any branded items. This is optional. Should you choose to purchase uniform with the logo these are available from:
Top Class School Wear
Website: www.topclassschoolwear.co.uk
Facebook: www.facebook.com/topclassschoolwear
Email: sales@topclassschoolwear.co.uk
Phone: 07966 239509
All the uniform that we ask children to wear can also be purchased, without a logo, at most leading supermarkets for a reasonable cost. This includes PE kits and footwear.
Other items such as blue summer school dresses, grey pinafore dresses, white polo shirts, shirts or blouses, grey trousers and grey skirts are widely available at national chain stores and supermarkets and should not be difficult to obtain in our uniform colours.
Provision of second-hand uniform
Throughout the school year, school will hold periodic uniform swap shops, where uniform that is too small, or has been left in school and is in good condition, can be exchanged.
Details of these 'pop-up' swap shops will be shared through the year, via the school website, the school Facebook page and school newsletters
At the end of the school year, unclaimed items or uniform that has not been 'swapped' and is in good condition, will be taken to a local charity shop or donated to the Uniform Exchange Programme.
Second-hand uniform can also be requested through the Uniform Exchange programme. Further details can be found be clicking here - Uniform Exchange