Teacher: Mrs Boulby
Hello and welcome to our Year Five class, taught by Mrs Boulby (more commonly, Mrs. B!), with Mr Watson and Mrs Sykes (and Mrs Martin on Mondays). This year all our classes are named after potential Olympic athletes - we are called Storey Class, after super-Paralympian Sarah Storey.
We are the oldest class in school, so as well as the usual work we also have lots of responsibilities, such as being Play-leaders, setting up the Music and Computer for Collective Worship, looking after the Library, working with Reception as Shared Reading partners and so on. We also get to go on the best trip in school – Robinwood activity centre in Todmordon.
Our classroom is bright and cheerful, with lots of interactive displays, and different learning zones. We do lots of different topics: this year this includes Ancient Greece, Space, Water and Victorians: A Time of Change. We have fun, as well as doing our best work. Some of the best bits in our class are the theme days: on Greek day, we try lots of Greek food and have an Ancient Greek Top Model catwalk challenge! On Victorian Day, we all dress up - teachers included - and pretend to be in a Victorian classroom and do old-style Reading, wRiting and 'Rithmetic, as well as PT and sewing (girls only of course).
Mrs B has been teaching for a long time and loves working with older KS2 children, encouraging us to develop greater independence, responsibility and prepare us for our move on to Middle School. She aims to stimulate a love of learning, and help us develop into "confident, switched-on young people with a good work ethic and respect for others."
We believe our classroom should be a safe and happy environment, where everyone is respected and feels able to try new things, offer suggestions and learn through making mistakes. We want to get the most out of our last year here at Scissett CE Academy – and give something back as well!
Collective Worship – We were great, honest!
Posted: Nov 11, 2019 by: Heather Boulby (hboulby) on: Storey Class Blog
This year, each class is going to introduce one of our Christian Values each half term in Collective Worship. As we are oldest, we got to go first, and had to plan and lead on the theme of Honesty. We all thought of lots of different ideas to include, and eventually had a plan:
Storey Class Worship – Honesty – Autumn 2019
Welcome (Ava)

Introduce song (Kelsie)

Introduce theme of Collective Worship (Blake)

Introduce sketch (Louis)

Sketch – The Boy who Cried Wolf (Boy: Oliver; Wolf: Millie B; Sheep: Brooklyn, Dylan & Marcus; Shepherds: Adam, Blake, Liana, Mia & Rory)

Questions about the sketch (Imogen & Brooklyn)

Re-run sketch with better ending!

Bible quotes (Ella to introduce; Adam, Elijah, Jas, Liana, Louis, Mia, Sophie & Thea)

Explain Prayer corner (Brooklyn, Halle, Henry, Imogen & Kaylee)

Prayer (William)

H-O-N-E-S-T-Y song (including thoughts from Dylan, George, John, Joshy, Kayden, Marcus and Zain) and dance routine.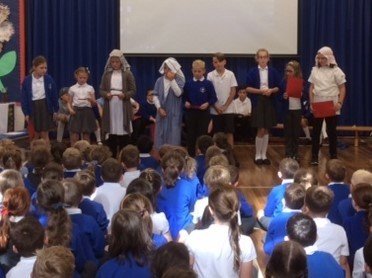 Everybody was involved in some way, and Mrs B and the other teachers were really proud of how quickly we had pulled it together and how well we did. The parents who came seemed to enjoy it too!
Oliver said he told his adults at home about it and "they were there to watch me and they thought I did really well at being The Boy and doing the computer."
Adam thought it was important for children to lead Collective Worship because "we can be imaginative and learn from our mistakes," while William believes "everyone needs a part to play in this school."
Elliot thought "It was very fun and the teachers were very enthusiastic!"