Gandhi Spring 2023
Invasion Games
Year 4 have loved their PE sessions with Mr Killock in the sunshine!! They have been focussing on Invasion Games.
A Special Letter
A very special letter arrived for Year 4 from Buckingham palace… we have opened it in class and are very excited to share it with the rest of the school in worship this week!
EGGcellent Investigations




In Science Year 4 have been learning about our teeth and the importance of looking after them. As part of our unit we have conducted an investigation to see how different liquids can effect tooth decay. We have placed eggs into water, juice, milk, cola and squash to observe what will happen over time. We've already noticed some very interesting changes…
OUR VIKING DAY
We had a great last day of term when a real life viking came to visit us. He brought lots of interesting tools, equipment and artefacts with him for us to look at.
OUR VISIT TO HOWARD PARK
Year 4 have had a wonderful morning visiting Howard Park in Cleckheaton as part of the "Carry my Story" programme. It was great to see our buddies again, do some exciting activities with them and get to explore a different school. We especially loved meeting Eddy the school dog. Our staff were so proud of how polite and well behaved our children were. They were excellent representatives of Scissett CE Academy! Well done Year 4!
'THE RIVER' POETRY
Our final writing topic for this half term was all about poetry. Year 4 studied the poem "The River" and explored rhyme, metaphor and personification. We created our own poems using these language features all about "The Ocean". We've loved writing and performing our poetry.
INDIAN ART
Year 4 for have been learning about Indian art. We have explored Mehndi patterns and designed our own.
A VISIT FROM HOWARD PARK
Today year for had an exciting visit from our friends at Howard park. We have been paired with them for the carry my story project. So far we have communicated via letters so it was really special to get to meet our friends in person.

We spent the morning getting to know each-other, playing games and doing collaborative work.

We cannot wait to visit their school next week!
MATHS
In Maths this half term Year 4 have been focusing on multiplication and division. We have been developing our understanding by using pictorial, concrete and abstract approaches. We have then used our skills to help solve problems in our books.
READ ALL ABOUT IT - VICIOUS VIKINGS

As part of our Viking topic we have learned all about the Viking invasion.

Year 4 created their own newspaper articles, diaries and recounts to retell the events. They did a great job at presenting their work themselves and finding the important facts to include.
Tag Rugby
Year Four are really excited to start developing their tag rugby skills this half term with Mr Burrows.
Letter Writing
We have been paired with a school in Cleckheaton called Howard park as part of the Carry my story programme.
Last half term we made contact with the school and sent them some handprints with clues all about us on them. We have received handprints back and have thought of lots of wonderful questions to ask our buddy.
We cannot wait to post our letters and hear back.
Gandhi Autumn 2022
Wonderful Water

Year four are learning about the Trinity this half term and to begin our new topic we explored the symbolism of water. We thought of words to describe water such as powerful, healthy and dangerous. We then linked this to what we know about baptism and how water is used as a symbol of the washing away of sins.
We washed away our words. Next we will explore the story of the Baptism of Jesus and how it is represented in artwork.
Football

This half term we are improving our football skills in our PE unit. We have been working on our ball control when dribbling and will work onto passing and competing in matches.

Year four have done lots of exciting activities during we are different, we are the same week. We have explored lots of stories, created Mexican folk art and learnt all about carnival dancing!
Michelle Bennett (mbennett) on: Gandhi Autumn 2022
Year 4 had a special visit from Reverend Sarah to discuss her role as a church leader. She told us all about her job and what she does on a daily and weekly basis.
The class had thought of lots of wonderful questions to ask her.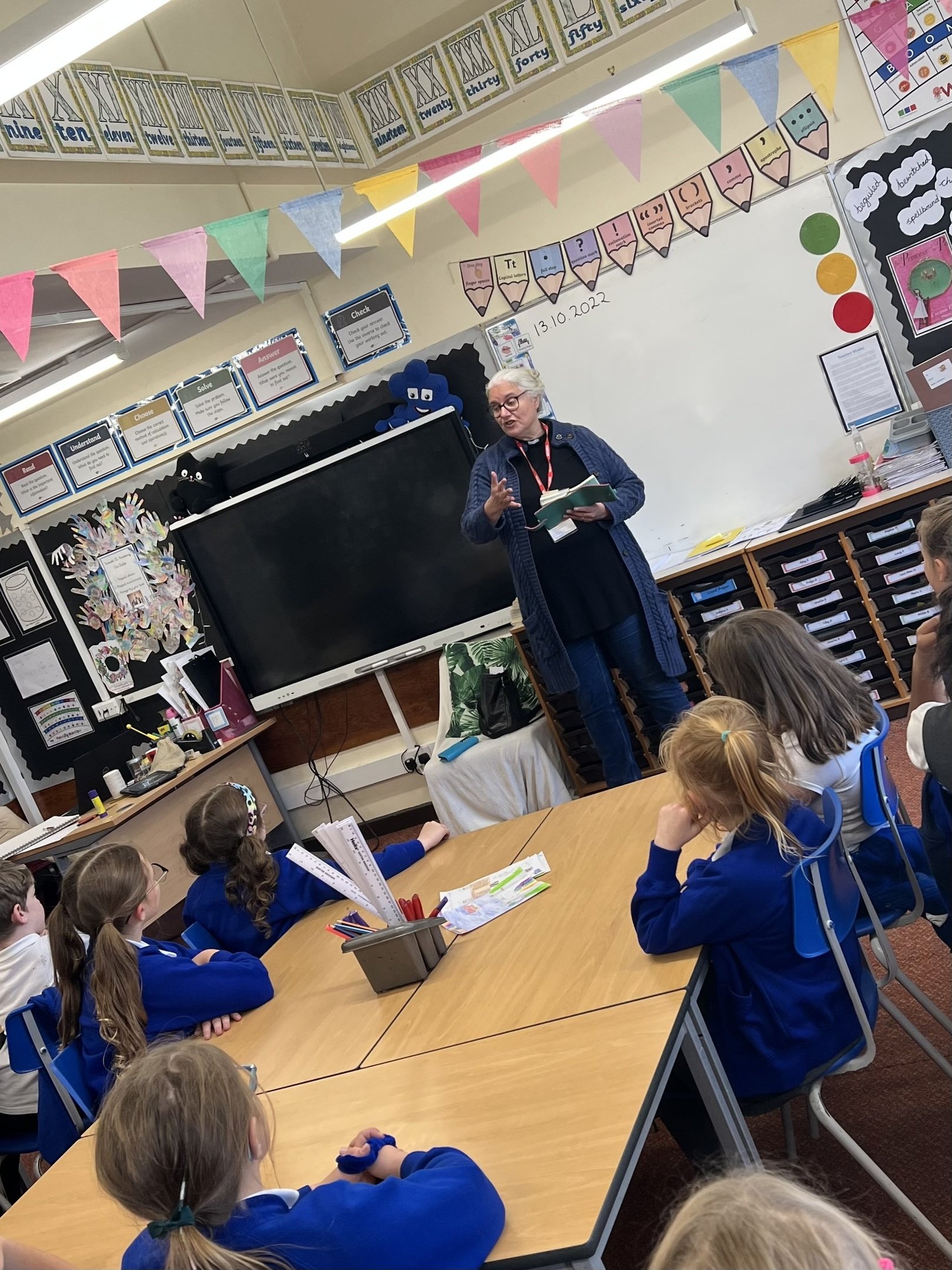 ---