Hello and welcome to the Year 3 class page!
We are Thomas Class (named after Alma Thomas.) Alma Thomas was an African-American artist and we love the bright, vibrant colours that she used in her work – because we are bright and vibrant too!
Our class teacher is Mrs Buckley who is new to the school in 2020. Mrs Buckley loves teaching Year 3 and has done so many times before. The things she likes the most are seeing how much we learn in such a short space of time – coming from KS1 to KS2 and growing up fast. We will have lots of fun along the way too.
Activities that we will do in Thomas Class can sometimes be unusual! Mrs Buckley likes to do her own quizzes and test us out. Sometimes, we will stretch out and get comfy then close our eyes and drift away to lovely places – during our Mindfulness practice. Most of all, Mrs Buckley loves reading pictures book so she cannot wait to get started with some of the amazing and beautiful books we have in school.
In Thomas Class, we also have Mrs Bray. She is so creative and helpful, and works hard to make our classroom look welcoming and bright. Mrs Bray is also our Lunchtime Supervisor and makes sure that we get our food on time, as well as helping us to have fun! Mrs Bray and Mrs Buckley make a great team too.
Year 3 is such an exciting time in our lives. We will thrive, develop, mature, and strengthen our community. We will ALWAYS try our best! We will learn about so many exciting new things and get to use a whole new range of equipment.
Thomas class have been busy this week using place value counters to help us understand the tricky concept of 'exchanging'. It has been really challenging at times, but we never gave up!
Here are some photos showing us busy at work..
Thomas Class Blog
admin on: Thomas Class Blog
Laugher Class are exploring who in the world might be a Muslim and what they believe. We have been very lucky in that a member of our class has access to some authentic items relevant to this topic and has brought them in to share with us. The children have been enthralled to see both the book and the clothing shown in these pictures.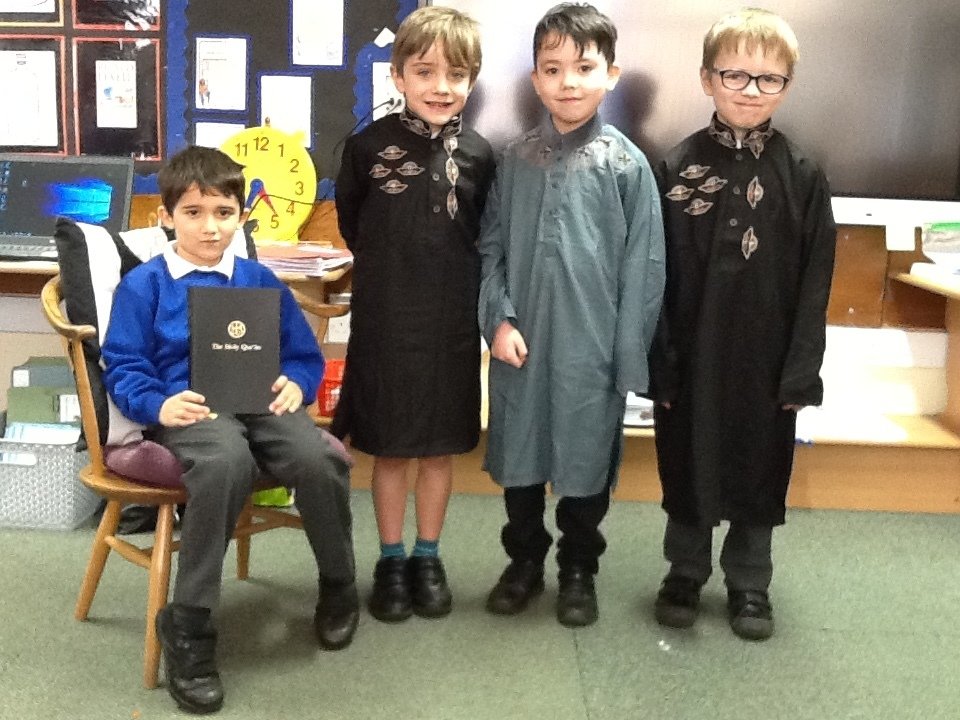 ---